Telecommuting is more productive and less stressful for me. What about for you? Are you more productive at home? Is it more or less stressful for you?
BusinessLeadershipManagement (BLM)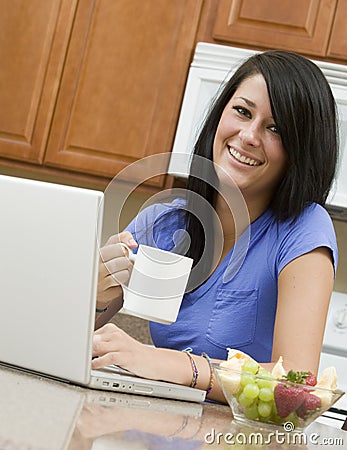 © Photographer: Ryan Stevenson | Agency: Dreamstime.com
As businesses approach Telework Week 2014, employers and employees will make commitments to increase telecommuting and productivity, while decreasing commute times and stress. A survey of U.S.-based customers and knowledge workers  found that telecommuting employees see improvements in stress level (82 percent), morale (80 percent), productivity (70 percent) and absenteeism (69 percent).
The survey showed that telecommuting is widespread among businesses with knowledge workers:
80% of respondents report that their office allows telecommuting.
71% participate in the telecommuting program.
50% telecommute one day per week.
22% telecommute five or more days per week.
Technology powers telework, with 91 percent of telecommuting respondents using a company-issued laptop. Other popular technologies issued by employers are:
76% VPN access to company data.
75% web conferencing tools.
62% cellphone or smartphone.
"The findings confirm what we at PGi have always known to be true: Telecommuting provides important…
View original post 283 more words